Facial Treatment South East Melbourne
Are you in search of a relaxing facial experience that leaves you feeling refreshed and rejuvenated? Look no further than Dazzling Beauty Studio, located in the heart of South East Melbourne. Our beauty salon offers a range of facials to suit all skin types, from hydrating facials to deep-cleansing facials, Algologie products that are derma tested and everything in between.
Skin brightening treatments are the beauty world's not-so-secret weapon. They can bid farewell to dullness and reveal a complexion that radiates from within. Whether it's erasing those stubborn dark spots or evening out your skin tone, professional skin whitening treatments and facials can unveil a luminous glow that reduces the need for excessive makeup.
When it comes to achieving a radiant and glowing complexion, our team of experienced beauticians use only the best products and techniques to deliver a facial experience that exceeds your expectations. We take pride in using premium quality products from well-known brands such as Dermalogica, Sothys, and Payot to ensure that your skin is well-nourished and glowing after every facial session. we offer a range of effective solutions to help you achieve the complexion of your dreams.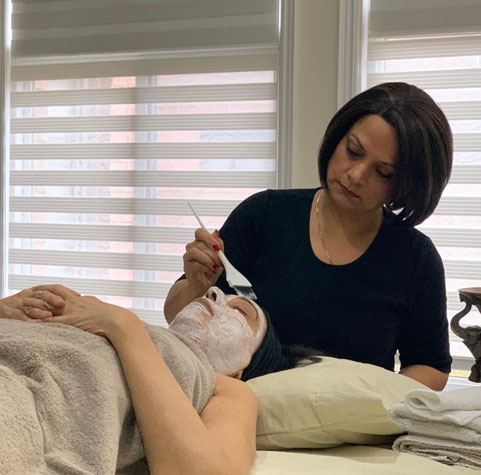 Pricing: Facials
Algologie
$120
Express
$50
Microdermabrasion
$100
What is a Facial?
Facials encompass a range of techniques and products used in professional skincare treatments to enhance the health and overall appearance of the skin. Facial treatments are designed to address specific skin concerns and can range from basic cleansing facials to more advanced treatments that target specific issues to enhance overall skin health.
One of the most popular spa services around the world, facials have proven beneficial for all kinds of skin concerns like blemishes, wrinkles, dehydration, looseness, dullness, and so on. However, the efficacy of a facial depends heavily on the products being used and whether they are compatible with your skin. That is why it's important to find the right aesthetician who can perform a facial treatment that is suited according to your skin.
At Dazzling Beauty Studio, we take the time to understand your unique needs and goals before selecting the appropriate products for your facial. Our dedicated professionals provide personalised treatments, setting realistic expectations and revitalising your skin with care.
Different types of facials cater to specific skin concerns and goals, offering a range of benefits. Here are a few common types:
Microdermabrasion Facial : This type of facial uses a diamond-tipped wand or fine crystals to exfoliate the outer layer of the skin, promoting cell renewal, reducing fine lines, and improving texture.  It is an effective treatment for reducing the appearance of hyperpigmentation, acne scars, and uneven skin tone.
Express Facial : For those with a busy schedule but still craving the benefits of a facial, an express facial is the perfect solution. An express facial offers a quick and refreshing treatment that includes cleansing, exfoliation, and moisturisation to give your skin a boost on the go.
Algologie Facial : Algologie facials incorporate products infused with marine-based ingredients, such as seaweed or algae. This facial deeply hydrates, nourishes, and rejuvenates the skin, leaving it refreshed and glowing.
Facials for Sensitive Skin : These facials are specifically designed to cater to the needs of individuals with delicate and easily reactive skin. It uses gentle and soothing techniques, along with specialised products that help calm and reduce redness while providing hydration and nourishment to promote a balanced complexion.
What are the Benefits of Skin Whitening Treatments?
Skin brightening is a non-surgical cosmetic procedure that serves to lower the concentration of melanin, the pigment responsible for skin colour as well as shielding it from the sun. Skin whitening creams, laser treatments, and facials are some common techniques used in this process. While the cost, execution, recovery time, and side effects for each method vary depending on the individual and salon, they provide similar benefits:
Reducing Hyperpigmentation : One of the main reasons skin whitening treatments have gained popularity is their ability to reduce the appearance of hyperpigmentation. These treatments can also reduce dark spots, melasma, or uneven skin tone due to sun damage, hormonal changes, or other factors.
Lightening Specific Areas : If you desire a more even complexion by targeting specific areas with darker pigmentation, such as scars, blemishes, or discolouration, a skin-brightening facial is a perfect choice for you.
Boosting Your Confidence : Achieving a brighter and more even complexion can significantly enhance your self-confidence and overall satisfaction with your appearance.
Rejuvenation and Revitalisation : Skin whitening treatments can help rejuvenate and revitalise the skin, reducing signs of ageing and restoring a more youthful complexion.
Improvement in Skin Texture and Brightness : These treatments can result in an overall improvement in the texture and brightness of the skin, giving it a smoother and more radiant appearance. Many skin whitening treatments involve the use of specialised products that nourish and hydrate the skin, promoting its health and vitality.
Some Aftercare Tips for a Longer-Lasting Glow
Both facial treatments and skin brightening techniques require proper aftercare to ensure optimal results and maintain the health and appearance of your skin. Certain types of facials, such as chemical peels or microdermabrasion, can cause temporary redness, sensitivity, and mild irritation. Even a basic form of aftercare can help you soothe the skin and speed up healing.
Here is a list of dos and don'ts (for a few days after) to maintain the long-term health and appearance of your skin.
Things to Do:
Use a mild, non-abrasive cleanser: Use a gentle cleanser to remove impurities without stripping the skin of natural oils.
Apply serums: Incorporate vitamin-infused serums as part of your skincare routine to amplify the effects of treatment.
Be patient:  Give your skin enough time to heal and benefit from the treatment.
Keep your skin hydrated: Drink plenty of water and apply a gentle moisturiser to nourish and protect your skin.
Things Not to Do:
Avoid direct sun exposure: Shield your skin from harmful UV rays by avoiding direct sun exposure, especially during peak hours. Use broad-spectrum sunscreen with SPF 30 or higher to protect your skin from sun damage.
Steer clear of harsh skin products: Avoid applying heavy makeup or any harsh skincare products, such as exfoliation, immediately after your treatment.
Avoid working out: Avoid intense workouts, steam rooms, sunbathing, waxing, or shaving immediately after your treatment. These activities can cause sweating, heat, or further irritation to the skin.
Contact Us to Book Your Facial Appointment Today
At Dazzling Beauty Studio, we prioritise the safety and well-being of our client and understand that each individual's skin has unique needs, and that's why we provide personalized skincare solutions to every client. Our facial treatments are designed to to minimise the risk of allergic reactions and sensitivity flare-ups, ensuring that you experience the glow without any discomfort.
To book your facial appointment at Dazzling Beauty Studio, simply give us a call on 0410 227 822, or send us an email at renuka@dazzlingbeautystudio.com.au. Our friendly staff will be happy to assist you in booking a time that suits you best.
So why wait? Book your facial appointment today and experience the Dazzling Beauty Studio difference!
Savrina Perren
2023-01-15
I was very happy with my make up and hair done for a wedding
Gurinayat Sandhu
2022-05-18
Dazzling Beauty Studio's make-up and hair services are incredible. My reason for visiting was because of a Year 12 Formal, and I was delighted with the result. I am glad I chose this place to do my hair and make-up. Thanks to Renuka, your work is fantastic!
Renuka is beautiful and provides an A class service at her beauty studio.. I am definitely going back.
bepasha sharma
2022-01-05
Renuka Aunty did my make up for my wedding day and she did a phenomenal job!! I couldn't be more happier. She is amazing not only professionally but also gave a personal touch to the service provided !!
I recently got my facial done from Renuka, I must admit it was one of the best facial experience I have ever got in Melbourne, I have tried few places but nothing beats this place . It was very relaxing and my skin felt so rejuvenated. Renuka really took time out to understand my skin type & my skin felt so good after the facial. Ambience was very pleasant & I would give 10 on 10 for the cleanliness & atmosphere of this place. Highly recommend this place if you're looking for best facial experience.
natasha saluja
2021-11-01
Had my facial and treading done. My eyebrows are really tricky and Renuka gave them perfect shape and that too pain free. Amazing facial, I was so relaxed and my skin is glowing.
I had a hot stone massage and it was truly relaxing and very addictive. Renuka is a thorogh professional and studio is impeccable. Highly recommended.
Archana Pottumuthu
2021-01-08
Really impressed with your work and happy for your service. completely satisfied on my big day...Highly recommend