Get Microblading Services at Dazzling Beauty Studio in South East Melbourne
Many seek to have the perfect eyebrows as it can have an impact on one's overall appearance. The good news is that there are solutions like microblading to help you achieve eyebrows on fleek. Dazzling Beauty Studio offers microblading services in South East Melbourne that leave you feeling confident and beautiful.
If you're looking for a semi-permanent solution to achieve full and defined brows, consider microblading services at Dazzling Beauty Studio in Narre Warren South, Victoria. Our team of expert estheticians use a specialised microblading technique to create natural-looking hair strokes that mimic the appearance of real brow hair.
At Dazzling Beauty Studio, we understand the importance of achieving your desired brow shape and size. That's why our team of experienced estheticians work with you to customise the perfect look that enhances your natural features and complements your unique style.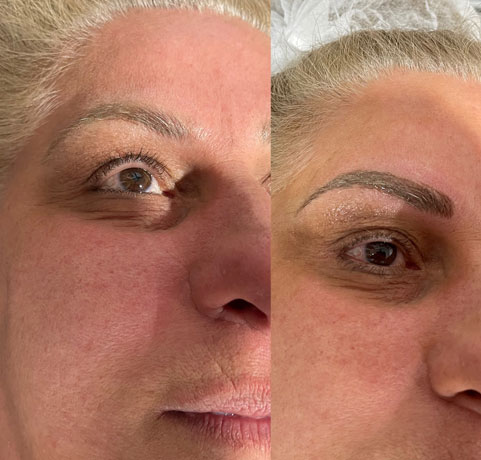 Pricing: Brow Architecture
Eyebrows Microblading/Feathering ( Two Sessions )
$250
Re Touch Up
$90
What is Microblading?
If you're looking to enhance your brows, microblading can be a game-changer. It is a semi-permanent makeup technique that uses a portable microblading tool to create hair-like strokes on brows that look natural. With its ability to provide long-lasting results and customisable designs, it can help you achieve beautiful eyebrows to enhance your facial features.
The initial treatment of microblading usually involves the following steps:
Consultation: The first step is booking a consultation with us to discuss your desired brow shape, colour, and overall look.

Mapping: We then map out the brow shape, taking into account the client's natural brow shape and facial features.

Numbing: A topical numbing cream is applied to the brow area to minimise discomfort during the procedure.

Microblading: Handheld tool is used to create hair-like strokes in the skin, using the mapped-out brow shape as a guide.

Pigment application: Pigment is applied to the skin to fill in any gaps or thinning areas and create a more defined brow shape.

Final touches: After the initial application, we'll examine the brows and make any necessary final touches. This ensures they are symmetrical and natural-looking.
Skincare after microblading
Aftercare is an essential part of the microblading healing process to ensure long-lasting results. You can follow these simple steps to take care of your skin after microblading:
Avoid getting the area wet for at least ten days after the procedure

Try not to touch or scratch the brow area to avoid infection or rubbing off the pigment

Avoid applying makeup or skincare products to the brow area for at least ten days after the procedure

Don't expose that area to direct sunlight or tanning beds for at least four weeks as it can fade the pigment and cause irritation

Don't pick at any scabs that form, as this can cause scarring or pigment loss (it's normal for scabs to form over the treated area as it heals)

Avoid activities that may cause excessive sweating or friction, such as hot yoga or running, for at least a week after the procedure
This way you can aid proper healing and get long-lasting results from your microblading procedure. Be sure to consult with our specialist for any specific aftercare instructions or concerns.
How is Microblading Different from Eyebrow Feathering?
Microblading involves using a hand-held tool with a row of fine needles to create hair-like strokes in the skin, which are then filled in with pigment. The result is a natural-looking, fuller eyebrow that lasts up to two years. It's ideal for those with sparse or thinning eyebrows.
On the other hand, eyebrow feathering is a more traditional technique that involves using a tattoo machine to create a soft, feathery look. This is achieved by creating small dots of pigment along the brow line, mimicking individual hairs.
While microblading fills in the entire brow area, eyebrow feathering is ideal for those who have naturally thick brows with sparse portions.
The Best Microblading Services in South East Melbourne
It can take hours to get your brows just right, especially when you're running late in the morning. That's where we come in! At our Dazzling Beauty Studio, we provide microblading services in South East Melbourne. We are dedicated to working with you to create brows that perfectly complement your unique features. Call us on 0410 227 822 or send us an email at renuka@dazzlingbeautystudio.com.au to know more about our services.
During your microblading appointment, our experienced estheticians will take the time to understand your desired brow shape and style, and create a personalised plan to achieve your desired results. Our team uses only quality pigments and tools to ensure a safe and comfortable experience, with beautiful yet natural-looking results.
In addition to our microblading services, we also offer a range of other beauty treatments, including facials, waxing, and threading. Our team of beauty professionals is committed to creating a relaxing and welcoming environment for our clients, ensuring a positive and enjoyable experience every time.
At Dazzling Beauty Studio, we believe that every client deserves to look and feel their best, which is why we offer personalised service and high-quality beauty treatments to suit your unique needs. Contact us today to schedule your microblading appointment and enhance your natural beauty with beautiful and defined brows.
Savrina Perren
2023-01-15
I was very happy with my make up and hair done for a wedding
Gurinayat Sandhu
2022-05-18
Dazzling Beauty Studio's make-up and hair services are incredible. My reason for visiting was because of a Year 12 Formal, and I was delighted with the result. I am glad I chose this place to do my hair and make-up. Thanks to Renuka, your work is fantastic!
Renuka is beautiful and provides an A class service at her beauty studio.. I am definitely going back.
bepasha sharma
2022-01-05
Renuka Aunty did my make up for my wedding day and she did a phenomenal job!! I couldn't be more happier. She is amazing not only professionally but also gave a personal touch to the service provided !!
I recently got my facial done from Renuka, I must admit it was one of the best facial experience I have ever got in Melbourne, I have tried few places but nothing beats this place . It was very relaxing and my skin felt so rejuvenated. Renuka really took time out to understand my skin type & my skin felt so good after the facial. Ambience was very pleasant & I would give 10 on 10 for the cleanliness & atmosphere of this place. Highly recommend this place if you're looking for best facial experience.
natasha saluja
2021-11-01
Had my facial and treading done. My eyebrows are really tricky and Renuka gave them perfect shape and that too pain free. Amazing facial, I was so relaxed and my skin is glowing.
I had a hot stone massage and it was truly relaxing and very addictive. Renuka is a thorogh professional and studio is impeccable. Highly recommended.
Archana Pottumuthu
2021-01-08
Really impressed with your work and happy for your service. completely satisfied on my big day...Highly recommend