Bridal Party Makeup in South East Melbourne — Get Ready to Dazzle on Your Special Day
On your wedding day, you want to feel confident and beautiful, and your makeup should reflect that. That's where Dazzling Beauty Studio comes in. Our team of professional makeup artists is skilled in creating beautiful and long-lasting bridal party makeup that will ensure you look radiant and flawless on your special day.
We understand that every bride is different, with her own unique style and preferences. That's why we offer a personalized approach to bridal makeup. We'll work with you to create a look that perfectly complements your features and personality, and that will make you feel confident and beautiful on your wedding day.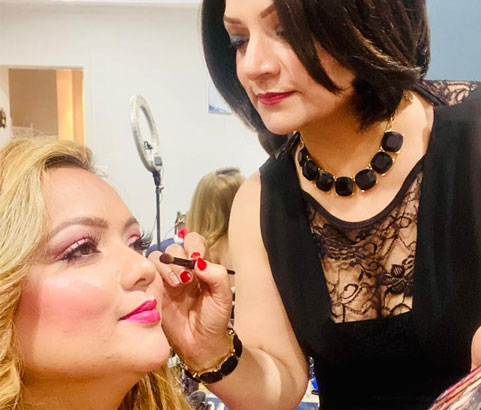 We also offer a variety of bridal party makeup packages, so you can find the perfect one to fit your needs and budget. Whether you're looking for a natural, everyday look or a dramatic, glam look, we'll work with you to achieve the perfect look for you and your bridal party.
Our team of skilled stylists is dedicated to enhancing your natural beauty and creating stunning bridal looks that will leave you feeling confident and radiant. With meticulous attention to detail and a deep understanding of the latest trends, we ensure that your makeup perfectly complements your unique features and personal style.
With years of experience in bridal party makeup, bridesmaid makeup, and engagement party makeup, Dazzling Beauty Studio guarantee gorgeous, long-lasting bridal looks that complement your unique style. Whether you envision a soft and romantic glow or a bold and glamorous statement, our talented artists will work with you to create a look that exceeds your expectations. Our goal is to bring your dream bridal makeup to life, ensuring that you feel beautiful and special on this momentous occasion.
At Dazzling Beauty Studio, we use only the best make up products from top brands such as YSL, NARS, PatMcgrath, Urban Decay etc. to ensure that your make up look is flawless and long-lasting. Whether you're looking for a natural, everyday look or a dramatic, glam look for a special event, our makeup artists will work with you to achieve the perfect look.
Pricing: Make Up
Hair Updo
$50+
Make Up Trial / hair Do Trial
$80+ / $100
Basic Party Makeup with False Lashes
$120
Bridal Party Makeup with False Lashes
$300
CURLS, Waves, Straightening – Long
$60
CURLS, Waves, Straightening – Short
$50
Saree Drapping
$25
Our Bridal Party Makeup Services
When it comes to full-glam bridal makeup, we make sure your looks are harmonised with the entire wedding aesthetic.  We provide the following services under a single roof:
Trial Makeup Sessions — We offer trial makeup sessions to understand your preferences and create the perfect look that matches your vision. This includes pre-wedding run-throughs for the wedding party.
Basic Wedding Party Makeup — Our basic party makeup service includes softer and more subtle, natural-looking makeup. We will enhance your features and create a fresh and elegant appearance that is perfect for your event.
Bridal Party Makeover — This makeup service includes wedding makeup for the entire party, including bridesmaids and close family members. We will work closely with each member to create a cohesive and harmonious look
Full-Glam Bridal Makeup — For the bride who wants to make a statement and exude glamour on her special day, our full-glam bridal makeup service is a perfect choice. This makeup includes smokey-eye bridesmaid makeup and bold looks for brides.
Why Choose Dazzling Beauty Studio?
Your wedding day is a once-in-a-lifetime event, and at Dazzling Beauty Studio, we understand the importance of looking and feeling your best. We pride ourselves on being a top choice for bridal makeup services in South East Melbourne, offering a team of skilled and experienced artists, premium-quality products, and a commitment to exceptional client relationships. Here are some of the major reasons why you should choose us –
Skilled and Experienced Makeup Artists : Our team of party makeup artists is highly trained and experienced in creating stunning looks. With their expertise and artistic flair, they can highlight your natural beauty and tailor the makeup to your unique features.
Customised Wedding Makeup Plans : We understand that every bride is unique, and that's why we take the time to listen to your preferences, understand your vision, and create a plan that perfectly aligns with your style We aim to enhance your natural features and make you feel like the most beautiful version of yourself.
Premium-Quality Products : We exclusively work with premium-quality products known for their long-lasting wear, seamless finish, and skin-friendly formulation. We carefully curate our product selection to ensure that your makeup not only looks amazing but also feels comfortable throughout the day.
Personalised Attention : When you choose our beauty studio, you can expect individual attention that caters to your specific needs and desires. Our makeup artists will work with you throughout the whole process to ensure you leave with a look that reflects your unique style and personality.
Exceptional Customer Care : From initial inquiry to the moment, you walk down the aisle, we are dedicated to providing a positive and memorable experience. We value the trust you place in us and strive to deliver professionalism, reliability, and a friendly approach that puts you at ease.
Contact Dazzling Beauty Studio Today to Book Our Wedding Makeup Service!
At Dazzling Beauty Studio, we understand that each client has unique needs and preferences when it comes to make up. That's why we provide personalized make up solutions to ensure that you're completely satisfied with your make up look.
If you're ready to turn heads and make a lasting impression on your special day, we invite you to visit Dazzling Beauty Studio in South East Melbourne. Our team is eager to discuss your needs in person and help you create the perfect bridal makeup look. To book your appointment, you can call us at 0410 227 822 or write to renuka@dazzlingbeautystudio.com.au for details like party makeup prices and so on.
Whether you're getting ready for a wedding, prom, or just a night out with friends, our professional make up artists will create a look that enhances your natural beauty and makes you feel confident and beautiful.
So why wait? Book your make up appointment today and experience the Dazzling Beauty Studio difference!
Savrina Perren
2023-01-15
I was very happy with my make up and hair done for a wedding
Gurinayat Sandhu
2022-05-18
Dazzling Beauty Studio's make-up and hair services are incredible. My reason for visiting was because of a Year 12 Formal, and I was delighted with the result. I am glad I chose this place to do my hair and make-up. Thanks to Renuka, your work is fantastic!
Renuka is beautiful and provides an A class service at her beauty studio.. I am definitely going back.
bepasha sharma
2022-01-05
Renuka Aunty did my make up for my wedding day and she did a phenomenal job!! I couldn't be more happier. She is amazing not only professionally but also gave a personal touch to the service provided !!
I recently got my facial done from Renuka, I must admit it was one of the best facial experience I have ever got in Melbourne, I have tried few places but nothing beats this place . It was very relaxing and my skin felt so rejuvenated. Renuka really took time out to understand my skin type & my skin felt so good after the facial. Ambience was very pleasant & I would give 10 on 10 for the cleanliness & atmosphere of this place. Highly recommend this place if you're looking for best facial experience.
natasha saluja
2021-11-01
Had my facial and treading done. My eyebrows are really tricky and Renuka gave them perfect shape and that too pain free. Amazing facial, I was so relaxed and my skin is glowing.
I had a hot stone massage and it was truly relaxing and very addictive. Renuka is a thorogh professional and studio is impeccable. Highly recommended.
Archana Pottumuthu
2021-01-08
Really impressed with your work and happy for your service. completely satisfied on my big day...Highly recommend